R&D Lab Measurement Equipment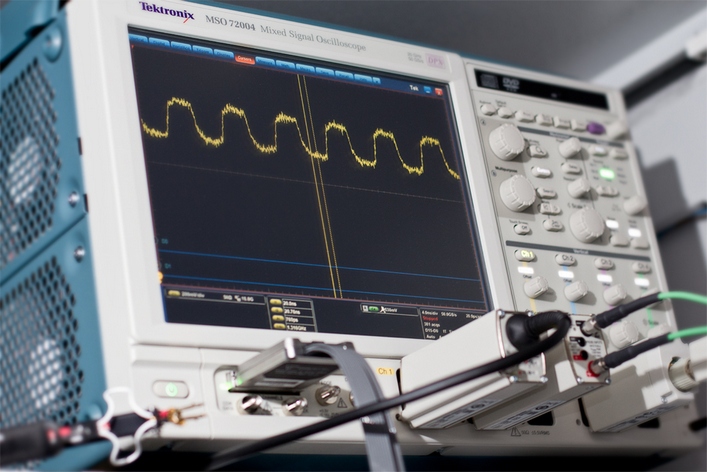 Digital & Mixed Signal Oscilloscope / Accessories / Other Equipment

Tektronix

MSO72004 - 20 GHz, 50 GS/s, 14 ps rise time

Tektronix Probes / Accessories

2x P7520 - 20 GHz Trimode Differential Probe,

2x P7313SMA - 13 GHz Signal Acquisition System,

1x P6780 - 17 Channel 2,5 GHz Differential input Logic Probe;

1x P75PDPM - Precision Differential Probing Module;

1x TCA-1MEG - Amplifier, High Impedance Buffer, 1 MOhm/10pF;

1x P5100 - High Voltage Probe 250 MHz, 100X, 2.5 kV;

1x P6703B - Optical-to-Electrical Converter; DC - 1 GHz,
1100-1650 nm (SONET/SDH Reference Receiver);

TCP312 - AC/DC Current Probe, DC-100 MHz, 30A DC;

TCPA300 - AC/DC Current Probe Amplifier, DC-100 MHz;

DMM4050 - 6.5 Dig.Res. Multimeter, 0.0024%; +TL705, TL710, TL750.

Hewlett Packard

8566B Spectrum Analyzer 100 Hz - 2,5 GHz, 2 - 22 GHz.

Hameg

HM8118 - LCR Bridge + options; HMP4040, HM7042-5 - Power Supplies.

Vision Engineering

Mantis Elite - Stereo Microscope x4-x15.

Various

other laboratory equipment.

Technology Expertise


Technologies

Signal Processing

FIR/IIR Digital Filtering, Dithering, PWM/PDM techniques, etc.

PCM+ and DSD+ conversion, sample rate conversion,

Speech recognition.
Hardware/Circuits Design Expertise
Processors & DSP, FPGA

Amlogic

S805

Analog Devices

ADAU144x, BF5xx

Texas Instrument

OMAP 4470, 35xx, TMS320 platforms, MSP430 series

Intel

x86

Atmel

AT91xxxx (ARM920T core)

STM

STM32F417

Xilinx

Artix 7, Virtex 6, Virtex 5, Spartan6
LCD

various colour TFT 32x64 - 1024x768 (18-24 bit),

monochrome graphical E-Ink, OLED 32x64 - 144x168, 320x240

capacitive/resistive touch screen controllers.

ADCs/DACs


Various parallel and serial ADC/DAC 8...24 bit, 100+ Msps,

Interleaving techniques.

Image Sensors

0,3 - 3,1 Megapixels.

Wireless





3G UMTS/WCDMA, GSM/GPRS/EDGE, CDMA 2000 1x EV-DO
Wi-Fi a/b/g/n/ac, Bluetooth 4.1, ZigBee,
GPS.

Buses

CSI, DSI, SDI, SPI, I2C, I2S, TDM, UART, PPI, SPORT, CAN, etc.

Interfaces

PCI-Express, USB, CF, MMC, SD, Ethernet 1G, HDMI, AES/EBU, S/PDIF;

Memory

NAND/NOR Flash, SRAM, SDRAM, DDR2, DDR3, DDR4;

Analog/Mixed Signal/Digital circuits


Various types of circuits, techniques, architectures, for industrial, measurement equipment, consumer applications.
Design Tools


| | |
| --- | --- |
| EDA & Simulation tools | DxDesigner, PCB Expedition, OrCAD, Allegro, P-SPICE, HFSS, CST, Multisim, ISE Design Suite, other, |
| | |