AKU Tech
offers multiple engagement models to meet diverse needs of our clients. You can choose from any one the generally accepted models below or a combination of them for different phases of your project. We can work with you to customize a model to address your specific need.
Effort based pricing or Time & Material;
Milestone based billing;
Dedicated Development Center;
Remote Engineering Center;
Build-Operate-Transfer (BOT) Model;
Project Outsourcing or Fixed bid.
Any of these pricing models can be applied to our suite of services in ingenious ways for convenience and best value for money.

Effort based pricing or Time & Material
In the Effort based pricing model, the project cost is a function of the total project execution time and the corresponding resources deployed.
This engagement model is particularly useful in contexts where the projects are quite complex and are prone to specification and design changes midstream.
This model gives customer greater flexibility in terms of developing the project specification on an ongoing basis and modifying the specifications based on the changing market needs.

Milestone-based Billing
This option works for Clients who are concerned about progress in remote projects, milestones-based payment schedules reinforce progress monitoring. It helps justify payment based on achievable milestone and visible progress reduces risks.

Dedicated Development Center
A Dedicated Development Center is an extension of the customer's own engineering/development center. Through such Dedicated facilities, we offer the best skill sets, resources, flexibility and time-to-market advantages to the customers, taking all necessary efforts to protect the Intellectual Property Rights (IPR) of the customers. All rights to the IPR developed in the Development Center vests with the customer. The Dedicated Development Center also provides a cost effective solution to customers requiring continuous offshore support. For such dedicated relationships, we also implement customer specific quality/process frameworks and teams are trained for the specific needs of a Client. The resources are paid on a retainer basis.

Remote Engineering Center
A Remote Engineering Center is an evolution of the Dedicated Development Center model. DDC and REC are hybrid models created to combine the best characteristics of project-based and staffing models. It combines flexibility and integration of DDC and the BOT model with high responsibility of the service provider and low management overhead on the customer side of the Project Outsourcing model.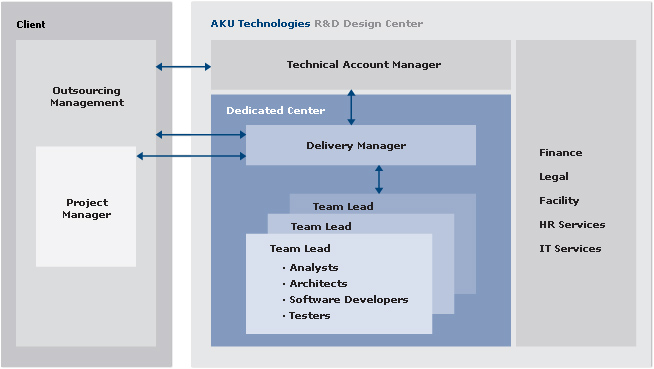 Build-Operate-Transfer (BOT) Model
In the Build-Operate-Transfer Model, our R&D center launches a dedicated facility for the client. This facility is like an extension of the client's own facility. The dedicated facility leverages AKU Tech's technical infrastructure, processes and execution capabilities. The dedicated facility is staffed either by existing AKU Tech's resources or by Client's resources or by resources hired specifically for engagement or a mix of them all. AKU Technologies has a well-defined mechanism for the smooth transition of the facility to the client.
Clients see the following benefits by working with this model:
Faster Time to Market
Lower Establishment Costs
Risk Reduction
Flexibility
Process Expertise
Option of owning the facility

Project Outsourcing or Fixed bid
A low risk option, which you can choose when the scope and specifications for the projects are reasonably clear.
We offer Project Outsourcing model in domains wherein we have the expertise and also have well defined estimation tools to determine the resource commitments.
Our process optimization ensures reliability, predictability and optimized performance of the projects to deliver on time, on budget, on target.